Once you've finally put your cornhole board together or after you've purchased a cornhole board you'll probably be wondering about applying a cornhole board finish.
But what type of finish should you get and how do you apply it?
This article will show you some of the best cornhole board clear coats (polyurethane and polycrylics) and explain how you you should apply them.
---
What is cornhole board finish?
Cornhole board finish is a clear coat (also called a "poly coat" or just "poly") that is applied to your board to protect it from the elements and provide a nice smooth finish so that your cornhole bags slide across the board.
---
Do you need a clear coat?
If you want your board to last and for your paint job and decals to stay in good shape, you'll likely need a clear coat.
Also, if you want your board to be nice and slick, you'll probably require a clear coat of some type.
Although some play with unfinished boards, most people I know will use a poly coat to preserve the quality of their board.
---
What kind of finish should I get?
There are different types of finishes that you can apply to your cornhole board. I'm going to focus on the two most popular types of finish.
Polyurethane
One of the most popular types is polyurethane.
There are different types of polyurethane: oil based and water based.
Oil based solutions take longer to dry and are known for being a more durable product. But oil-based clear coats tend to leave an amber or yellow-tinted coat on the cornhole boards, which can be very unappealing.
Meanwhile, water-based solutions dry quicker and leave more of a clear coat on the cornhole boards. If I had to choose one type of polyurethane, I would definitely go with water based. 
If you're looking for specific types of polyurethane, I'd recommend:
Rust-Oleum Wood Care Interior Ultimate Polyurethane
Park's Pro Finisher 
Polycrylic
The other cornhole board finish that is very popular is polycrylic.
Polycrylic is a water-based product that's often used when people are going for more of a glossy/clear appearance.  It's often used on on lighter wood surfaces, such as maple and birch and also used to cover decals and paint since it usually doesn't leave a yellowish tint.
It dries fast and because it can be a little runny, some people have more trouble applying this finish on larger pieces of furniture.
One great thing about polycrylic is that it's often the cheaper option for a clear coat.
Many people find that polycrylic offers a slicker finish but it also get get a little sticky at times. If that happens, feel free to apply some corn starch on the board to get things a little slicker.
If you're looking for a specific type of polycrylic I'd recommend:
Gloss levels
When shopping for your clear coat note that there will be different levels of gloss that you can choose from.
For example, you might see semi-gloss, gloss, etc.
I would recommend going with semi-gloss because some of the other levels can be a little too slick. Also, sometimes they produce an ultra-shiny sheen, that just doesn't look at good as the semi-gloss does.
---
Cornhole board dimensions
Just in case you still haven't built or purchased your cornhole board yet, you can read here about all of the official regulations for cornhole boards.
Also, if you need to know how to apply your decals, you can click here to learn more about that process.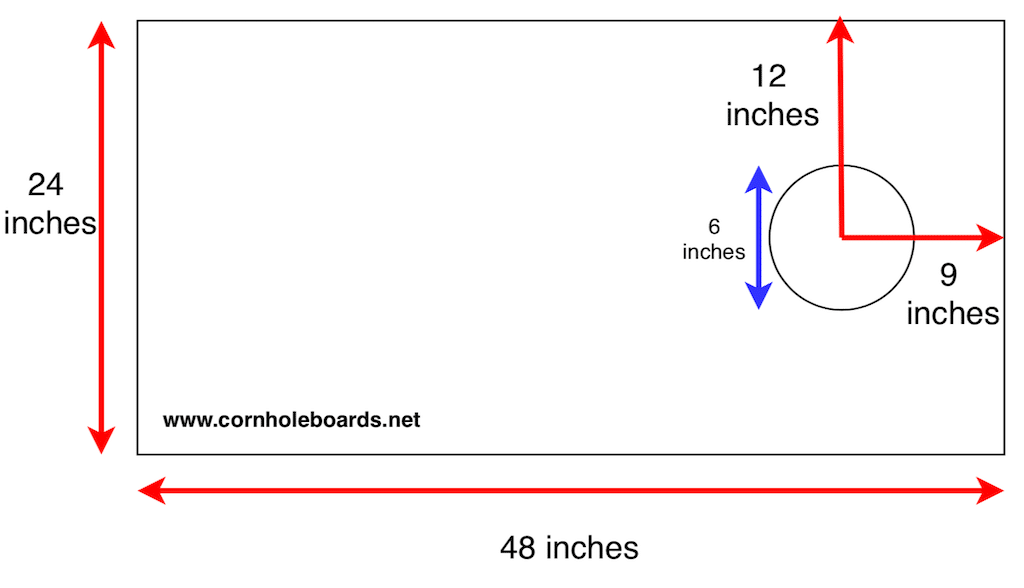 ---
How to apply finish to your cornhole board
Below are several steps that can help guide you when applying your cornhole board finish.
Just note that there's not really one single way to do it so I've provided some different methods you might want to consider trying.
1. Clean your area and cover the floor
It's very important that you first take the time to set up an area ideal for applying your clear coats. Consider sectioning off a corner of a room or a garage where you'll have plenty of space.
You want the area to be clean and as dust-free as humanly possible.
You can cover the floor with a tarp to protect the flooring.
2. Clean the cornhole boards
Make sure that your cornhole boards are clean and dust-free.
If you have small specs of dust, dirt, or wood on your boards it can affect the application of the clear coat and potentially ruin the finish.
3. Sanding sealer
A lot of folks like to apply a couple of coats of sanding sealer.
4. Don't shake your poly!
Remember that your finish is not paint and so you do not want to shake it.
Shaking it will likely result in air bubbles which will ruin the application.
5. Use a foam brush
Some people are tempted to use rolling brushes to apply their cornhole board finish but this is a huge mistake. In most instances, this will result in air bubbles popping up.
So what you want to do instead is to use a foam brush. This will allow you to evenly apply the poly coat on your boards without the same risk of air bubbles.
Going with a 3″ inch foam brush is often a good choice but if your brush is wider you can always just trim it down.
6. Apply multiple clear coat layers
You're going to need to apply several layers of poly to your cornhole board.
If you do enough research, you'll see that people vary drastically in how many layers they like to apply. Some stick to around five coats while others might do a dozen.
So there's no true "right" way to do it.
Well, except for the fact that you want to be as patient as possible and not rush. Focus on applying even coats in a slow, methodical manner and you should be happy with the end results.
For polyurethane, you'll probably apply five to ten coats.
There's a running debate on whether or not you should apply your clear coat over your vinyl decals. Personally, I would do it but you've got to consider how your clear coat might effect the decal down the line.
7. Wait for drying
You need to be sure to wait plenty of time between coats to allow the poly to sufficiently dry.
Just how long you need to wait depends on a lot of factors, such as the type of polyurethane you're using and things like the humidity.
But generally, you'll want to wait about 2 hours between coats to be on the safe side. If you can run your finger across the coat and not get any of the poly on your skin, then it might be ready for another layer.
One trick you can do is to use a fan to help the coat dry much quicker. But you need to be careful. That's because if the fan is too strong and the finish is too thin, the fan can blow the finish and cause it to apply uneven.
For that reason, you might want to wait about 20 minutes before using a fan to expedite the drying.
Apply the finish to different parts of the cornhole board
People usually apply coats to the different parts of the cornhole board. For example, they might apply 10 coats to the cornhole board's playing surface but only apply two to three to the legs and sides.
Some people even like to apply clear coats to the inside and underside of the cornhole board to help further protect it from the elements.
8. Sand your clear coats
Many will choose to do a light sanding when they've applied a hand full of layers (five layers or so) to the cornhole board. Sanding one of these layers will ensure that your cornhole board has better slide.
You want to use no rougher than a 220 grit sand paper (many use an orbital sander with even higher grits of 300+) and be sure to do it very lightly. 
Then be sure to wipe down your board after you sand to remove any small debris before applying your final coat(s).
9. Let them dry
As excited as you might be to bust your cornhole board, the best thing to do at this point is to allow your boards to dry completely.
I would recommend waiting 48 to 72 hours for it to dry depending on things like the weather.
---
Final word
Applying your clear coat is all about preparation and patience. If you don't rush through the process and smoothly coat your boards while allowing each layer to dry, you shouldn't run into a lot of problems.